The Covid-19 pandemic exacerbated already existing health disparities in underserved communities and threatened to undo years of progress in global health. The pandemic highlighted the need to invest in resilient community health systems to build on the promise of Universal Health Coverage. CHWs rose to the challenge and were at the frontline combating the reach of the virus through sensitization, prevention control, contact tracing and home-based care.
World Health Worker Week is an annual celebration week that highlights and celebrates the efforts of frontline health workers. The theme for this year is Invest in Health Workers and calls upon stakeholders globally to invest in health workers and implement policies that support and protect CHWs.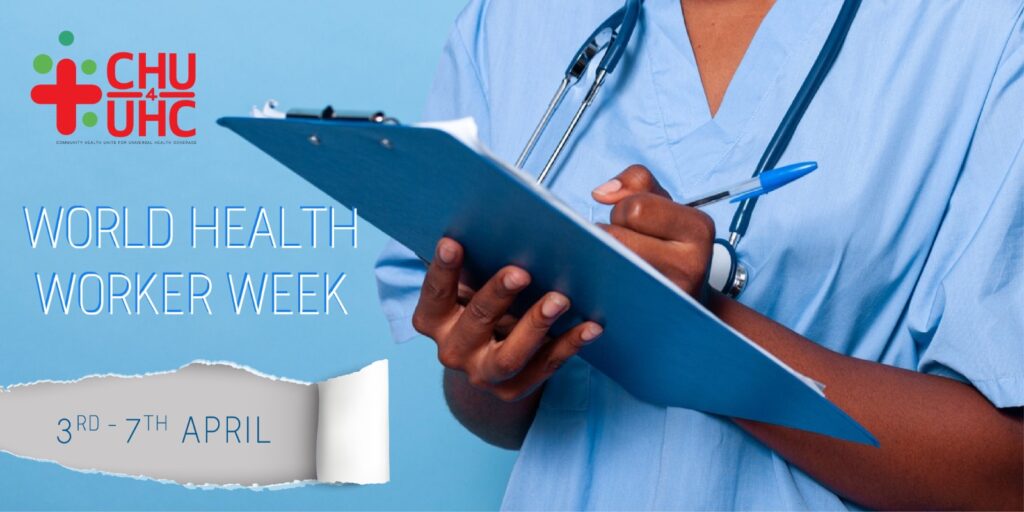 Why is it important to invest in community health?
There is enough evidence that investing in community health yields a 10:1 return on investment. Most health systems are reactive (focusing more on treatment) rather than proactive (preventing these diseases before they happen). Backed by evidence from services offered by community health workers, there has been a reduction in preventable and treatable diseases. Healthier communities translate to increased productivity.
Locally, there has been political prioritization towards PHC in current and past regimes of government, as a crucial vehicle for the delivery of universal health coverage in Kenya. Aligned with Kenya Kwanza's manifesto for Health, the government has committed to pay stipends to 90,000 CHWs and recruit an additional 20,000 healthcare workers to improve service delivery. There is increased domestic funding at both national and regional levels through the engagement of the legislators.
In line with this year's HWW call to stakeholders to invest in healthcare workers, we applaud efforts by the Global Fund, Johnson & Johnson Foundation and the Skoll Foundation for their efforts towards investing $100M geared towards scaling up community health services in up to 10 African countries through the African Frontline First- catalytic Fund (AFF-CF). The AFF-CF is a collaborative initiative seeking to fund, scale and strengthen community health programs. The continental initiative aims at creating 200,000 professionalized and integrated CHWs across 10 countries by 2030 to expand healthcare coverage to 100 million people.
Policy Implementation
We recognize the efforts of the Ministry of Kenya adopting the Kenya Community Health Policy 2020-2030 aimed at making health for all a reality. The policy also gears for the attainment of UHC and access to essential health services that positively contribute to improved health.
The CHU4UHC platform under the leadership of the Division of Community Health works collaboratively with different partners and counties to implement various policies like County CHS Bills, Facility Improvement Funds and offering TA to counties to develop community health strategies that will guide and offer county-specific frameworks for community health services. We work to support the professionalization of CHWs, the digitization of community health systems, remuneration and the career progression of CHWs across the country.