With deep regret and a sombre tone in his voice, Mohammed Ali recalls how losing his sister-in-law opened his eyes to the importance of pregnant mothers delivering in hospitals. Her death was attributed to the delay in getting prompt transportation to the nearest facility. Now, he operates a boda-boda ambulance working closely with his community and Community Health Promoters (CHPs) to ensure that every pregnant mother delivers at a health facility.
" It was in the middle of the night when her labour pains started. Mwanguda dispensary which is the nearest health facility is about 20 kilometres from the village. At that time of the night, there were no matatus on the road or any other means of public transport." Mohammed notes. Her family couldn't manage to get her to the nearest hospital in good time and she unfortunately passed away.
The boda-boda ambulance service is an initiative by the community to have a readily available mode of transport when the need arises. The initiative curbs the high cost charged by other riders by offering subsidized charges for transportation to health facilities for expectant mothers. Mohammed and his counterpart, Mwangale, operate the boda-boda ambulances serving Mwanguda CU in Lunga Lunga sub-county, Kwale County. Working closely with CHPs, the boda-boda riders are aware of the expected due dates of the mothers to stay prepared.
"The households are far from the facility and previously other boda-boda riders would hike the prices making it difficult for these mothers to get to the facility. This would counter the work we do to sensitize communities on the importance of safe deliveries in facilities. We came together in a community health dialogue and selected Mohammed and Mwangale as operators of the boda-boda ambulance initiative " Ndegwa, a CHP and Mwanguda CU chairperson reports.
Mohammed and Mwangale both understand the risks of home deliveries. "The mother might bleed excessively and people at home cannot stop the bleeding. The mother might require the drip injection but the TBA is not well equipped or trained for such. The mother might also require referral in case of an emergency and a formal health facility is best placed in such a case." Mohammed adds.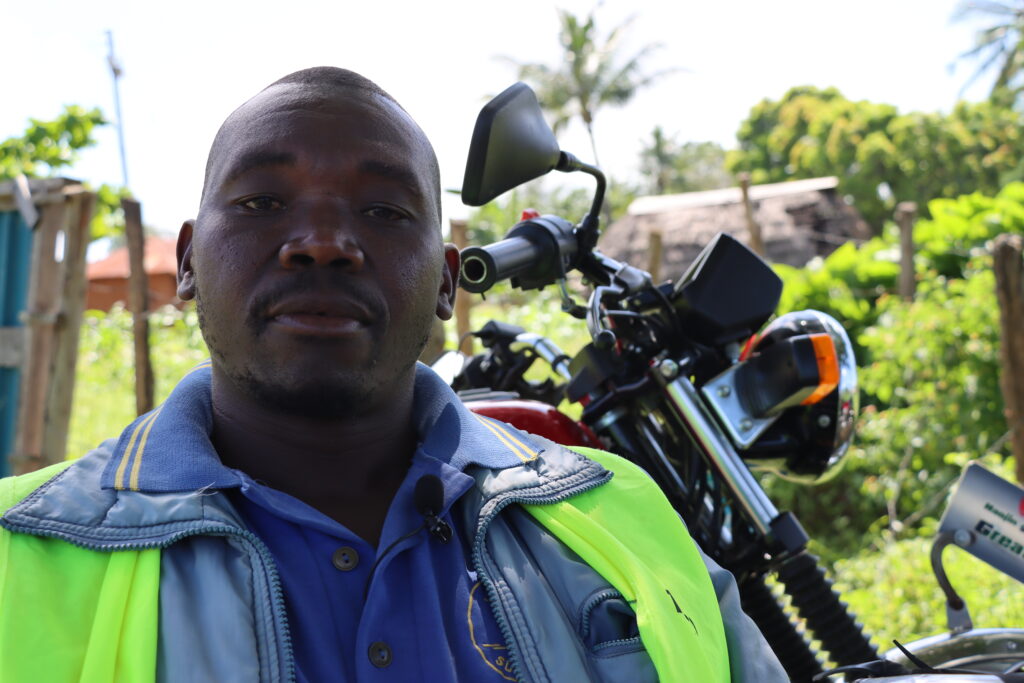 Mohammed and his counterpart Mwangale who run the boda-boda ambulance initiative.
However, Mwangale explains that they experience challenges as in any other line of work. The calls for assistance to the hospital come late at night and sometimes the riders do not have enough fuel for their motorbikes. Other times they might be referred to Lungalunga Sub-County Hospital which is farther away from the dispensary requiring extra fuel.
Despite all these, Mohammed and Mwangale remain committed to serving their communities in this way.
"There are many boda-boda riders in Mwanguda but the community saw it right that we be chosen. It's an honour when a community looks up to you in such a huge way," Mwangale explains. He adds that their road discipline and respect for women as witnessed by the community members contributed to them being chosen as operators of the boda-boda ambulances.
"I love serving my community in this way. Being chosen is an indicator that my community trusts me. I don't take it lightly and I always try my best to do my duties and improve the lives of my community members." Mohammed concludes.
The establishment of Community Health Units as stipulated in the Kenya Community Health Strategy (2020-2025) to serve more local communities has greatly improved the health of communities across the country. Amref Health Africa through the CHU4UHC project continually supports the strengthening of Community Health Systems in Kwale County. Since 2021, the project has supported the establishment of CHUs in the county, trained CHCs and rolled out the Community Scorecard tool to enhance social accountability in Primary Health Care. Amref has also trained 229 CHPs on modules of maternal and child health in the county through the Stawisha Pwani project to improve access and utilization of maternal and child health service