Sponsored by nominated senator, Agnes Zani, the Community Health Service Bill 2020 seeks to provide a legal regime for counties to recognize and remunerate their respective Community Health Volunteers.
Community Health Volunteers are the basic foundation of health systems in Kenya guiding communities on health improvement, disease prevention, and treating common ailments and minor injuries with support and guidance from CHAs. Though serving as the first line of defense in the fight against infectious diseases, most Community Health Volunteers are overlooked and undervalued, and their efforts aren't well recognized.
As the country gears up to achieve Universal Health Coverage, the government has said CHVs play a key role in the program, hence, the need to entrench them in the payment structure. In order to mainstream the remuneration of Community Health Volunteers, counties shall legislate Community Health Services through the enactment of County Community Health Bills.
There exist gaps in Community Health Services in Kenya that the Bill will address. It seeks to strengthen some already existing relevant systems and structures to cushion unforeseen outbreaks in the future. The CHS Bill if enacted by counties will change the narrative and see to it that Community Health Volunteers are recognized, equipped, and renumerated among other things.
The Bill when passed will:
Ensure registry of CHVs- it is important that Community Health Volunteers are registered and known by counties together with proper documentation of their roles.
Entrench CHVs – mostly, these frontline workers are only seen as volunteers hence the overlooking. The bill seeks to have them recognized as workers with proper remuneration and not just volunteers.
Advocate for CHVs' training- it is evident that Community Health Workers are cost-effective in terms of training and their service delivery. Training them takes a shorter time than it would take nurses and doctors and they are in a position to advocate for behavior that prevents many diseases. Capacity building is therefore vital to improve their service delivery. Technical training is provided and prioritizes the needs of the local community.
Advocate for equipping CHVs- most often, Community Health Volunteers lack the right equipment and gear to help them in their line of work. This Bill when enacted will regulate that CHVs are well equipped with kits to help our CHVs do their job as well as they possibly can.
Provide oversight on governance- Through Community Health Committees that coordinate and manage a Community Health Unit and its workforce, by providing leadership and oversight in the implementation of health and other related community services.
Political goodwill and setting budget lines for Community Health Services are key to ensuring sustainability for these investments. The Community Health Services Bill funds for counties are hinged on an equitable share already appropriated by the National Assembly to County governments. The counties only, therefore, need to set budget lines for Community Health Services.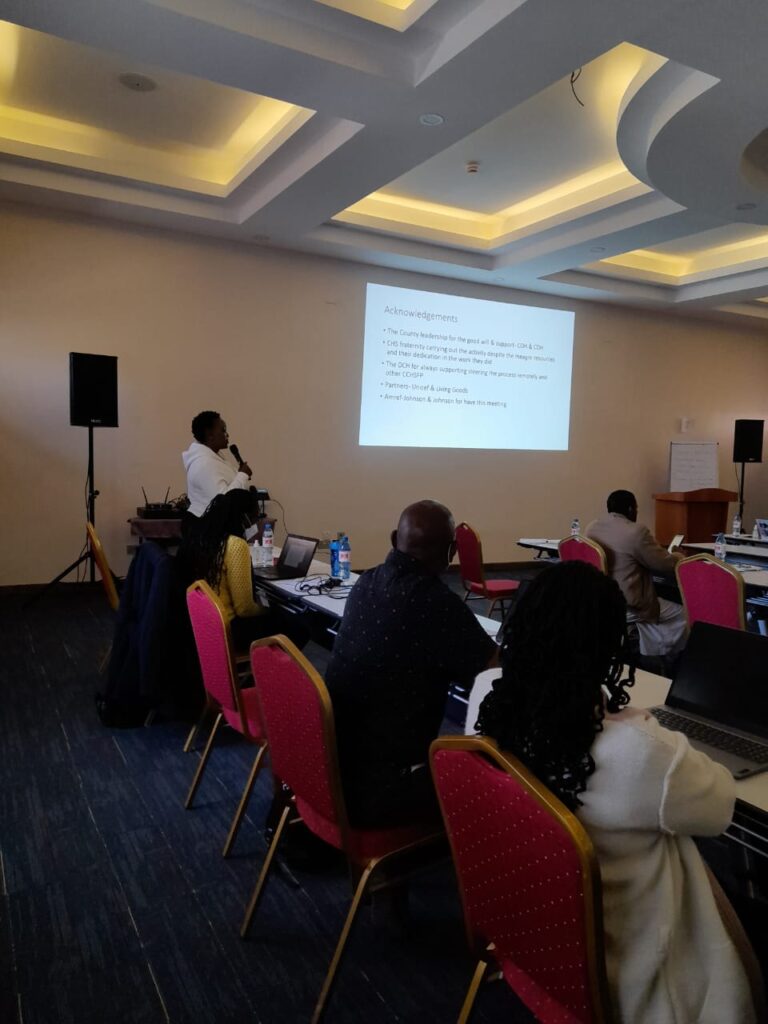 So far, 14 counties have enacted the Bill, as shared in the Regional Block Meeting by the respective County Community Health Focal Persons. The other counties are in different stages: 13 have drafted, 3 counties have it at the County Assembly,3 have passed the County Assembly but not yet assented and 14 counties are yet to start the process. The CHS Bill when passed in all counties will leapfrog the country's efforts in advancing the right to health.