The Ministry of Health in collaboration with the Nyeri County Government and Amref Health Africa facilitated CHC trainings across the county in activities that took place between 25th and 27th May 2022. Training was led by the Division of Community Health at the National MoH, Amref Health Africa in collaboration with the Global Fund Sub- Recipient in Nyeri (St Joseph's Brothers).
CHC trainings are in line with the Community Health Services Bill, 2020 that seeks to provide a framework for the delivery of community health services; to promote access to primary health care services at the community level and reduce health disparities between counties; to provide for the training and capacity building of the community health workforce; and for connected purposes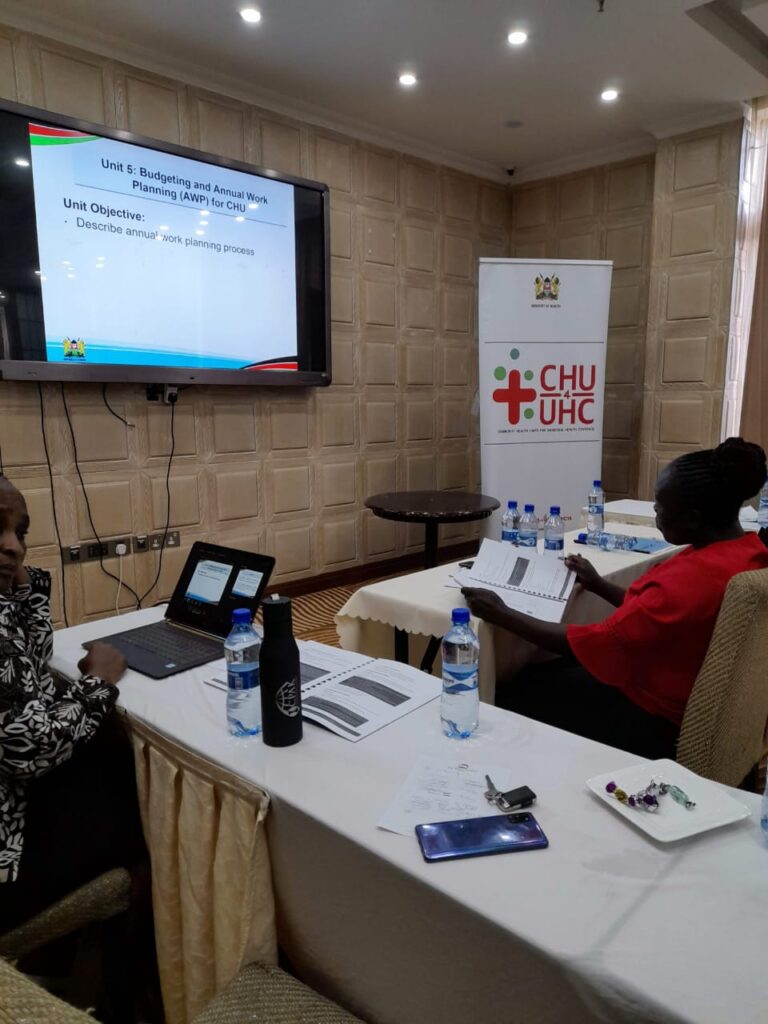 CHC trainings are aimed at:
Building capacity of the CHC members to provide oversight to the CHUs. This will enable communities to fully participate in their own health towards attainment of Universal Health Care (UHC).
Empowering the community on decision making and planning.
Improving service delivery at household level.
Understanding what entails community strategy and how it works.
Improving governance of community health and act as linkage between community and healthcare facilities.
Community Health remains at the heart of the organization, aimed at improving community awareness and health seeking behaviour. This can be achieved through community health committees (CHCs), who take defined services closer to the community and households. The CHC members draw from a vast pool of experience like administration and leadership as some are retired civil servants and leaders of different community forums which make them ideal for delivery of Community Health Services
In total,1,345 CHC members were trained over the three-day training exercise, who are now tasked with improving knowledge at household levels, in line with attaining UHC. The CHC members will coordinate and support the provision of health services at level 1using the knowledge and skills they acquired during the training.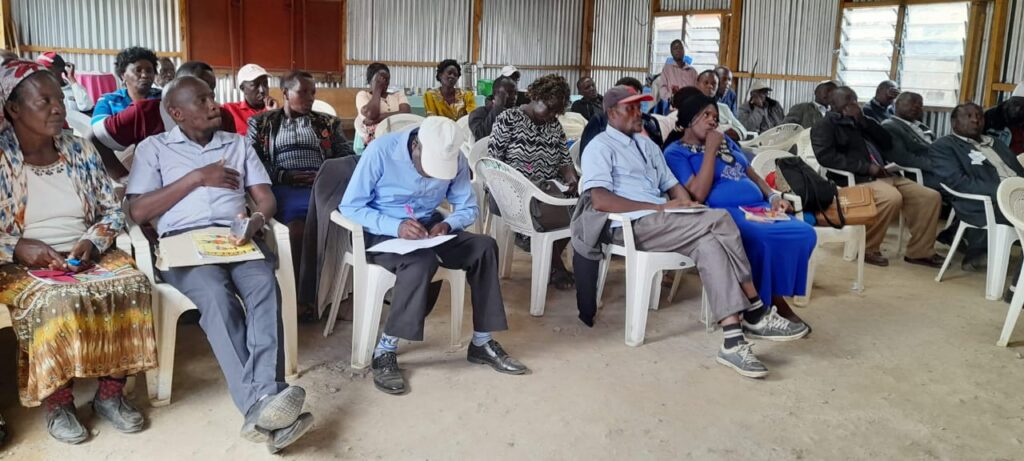 To facilitate learning, three documents were used during the training. These documents are part of the PHC policy documents launched earlier this year that institute policies that will strengthen capacity and deliver PHC to deserving communities https://chu4uhc.org/strengthening-primary-health-care-in-kenya-through-policies/. These are: Community Health Committees Training Manual, CHC curriculum and the CHC take home Handbook. The curriculum is new and is updated from 2018 to fill in existing gaps that were found in attaining PHC. The new curriculum strengthens existing structures and creates new ones where they did not exist.
The following were the trainings priority areas:
Health and community
Leadership and governance
Resource mobilization and Financial management
Advocacy, communication and social mobilization
Social accountability
Monitoring, evaluation and community-based surveillance
Amref Health Africa through the support of Johnson and Johnson Foundation, ELMA philanthropies and Global Fund continually support various counties in instituting policies aimed putting people at the centre of health systems.