Community Health Workers (CHWs) constitute the majority of Primary Health Care workers, reaching underserved communities and households that lack easy access to health facilities. This vital cadre ensures access to community-based primary healthcare, guiding communities on preventative, health-promotive behaviors, and treating common ailments that they are trained on. CHVs are an important nexus between the community and the formal health system.
Despite the essential work they do, compensation for CHWs has remained a challenge in most Health Systems. Locally, there have been advocacy efforts toward the same in line with addressing existing gaps within Community Health Services in Kenya. Nominated by former senator Agnes Zani, the Community Health Services (CHS) Bill was introduced to the Senate seeking a well-defined scheme of service for Community Health Services. The CHS Bill aims to have a legal framework to regulate community health services, remunerate CHWs and recognize them formally as part of Kenya's Health System among other roles.
Different counties use different approaches to remunerate their Community Health Workers. Nyeri county is among the counties that compensate for its CHVs. While awaiting passing the CHS Bill which is currently at the Senate level,  the county compensates all its 2510 registered CHVs. They are paid quarterly to boost motivation, attraction, and retention.
Even with remuneration, CHVs engage in Income Generating Activities (IGAs) to complement the stipends received as they are not commensurate with the workload. IGAs in the Community Units help enhance self-reliance among the CHVs and drive toward community-owned development processes.
Nyeri County CHVs engage in different income-generating activities (IGAs) for their growth and sustainability. These IGAs have aided their success in achieving their economic goals to avoid dwindling and reverting to their vulnerable condition if the support from the Non-Governmental Organizations, Government, and donors is withdrawn.
"During our training, we were taught the science and art of beekeeping and we decided to run with it. We started with one beehive, but after the first honey harvest, we decided to expand the activity seeing its low cost of timber needed to make the hives," one of the CHVs shares on their bee-keeping project.
CHVs from Kianjogu CU currently collectively have 9 bee hives from which they harvest, process, package, and sell the honey collected. The proceeds they get from selling honey are deposited in a bank from where members can borrow and pay back later at a low interest. Their counterparts from Kiamariga CU, have invested in catering services for their sustainability initiative. They have invested in simple utensils to begin and save up for more utensils from the money they get from catering gigs.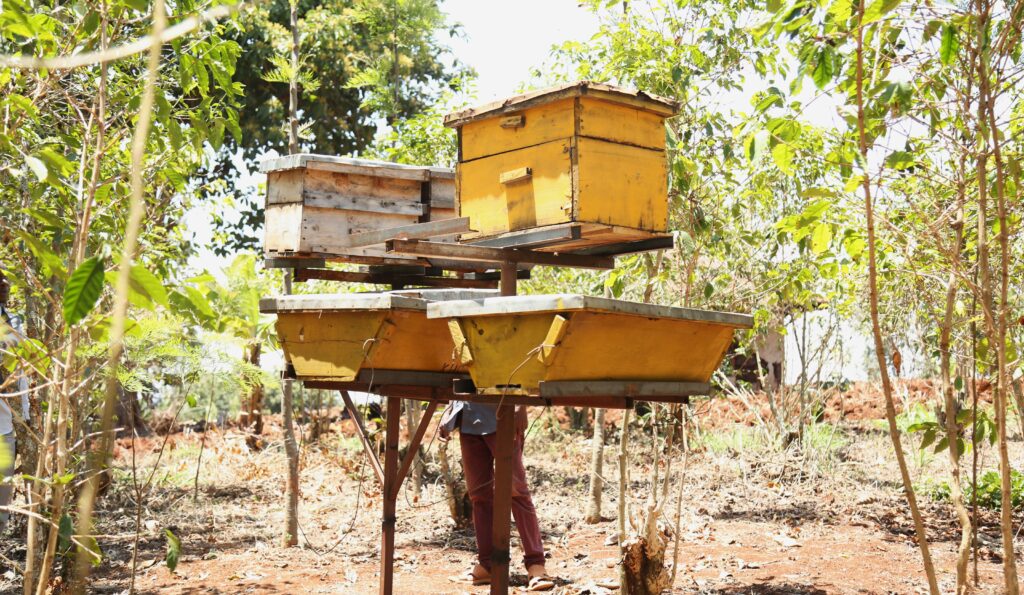 Empowering CHVs by creating context-based & informed IGAs at the community level is key to sustainable retention of their provision of Primary Health Care Services. Having an IGA has a stabilizing factor and should correspond to the needs of the community. Lastly, the success of IGAs is dependent on proper structures and operational logistics put in place.