To achieve the goal of Universal Health Coverage for all, it is important we consider the role Community Health plays being the first level of the health system. Community Health Services are delivered within a Community Health Unit (CHU) which is made up of 10 Community Health Volunteers (CHVs) under the supervision of 5 Community Health Assistants (CHAs).
Community Health Volunteers (CHVs) often overlooked and undervalued, remain the unsung heroes in advancing Community Health Services, especially in rural communities. They are at the frontlines of our communities teaching community members basic preventive and health promotive behaviors, treating common ailments, and referring them to hospitals when need be.
Meet Kristine Yakhama, a Community Health Volunteer at Shinyalu Model Facility, in Kakamega County, for the past 12 years, who mainly works with expectant mothers, HIV/AIDS patients, and TB patients in her assigned Community Health Unit. She shares her experience as a CHV.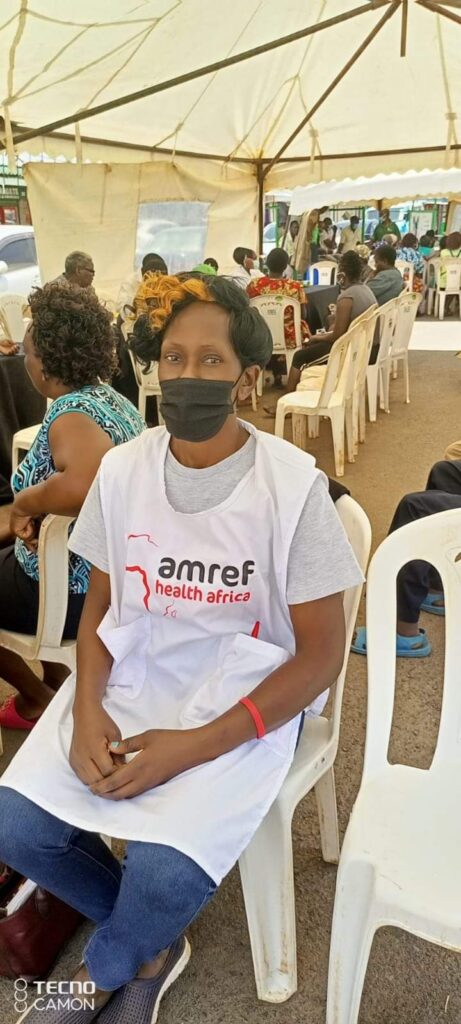 What is your typical day as a CHV?
 My day-to-day work involves going around the households in my community monitoring the health of expectant mothers, visiting mothers who have just delivered to monitor the health of both the baby and the mother, and monitoring drug intake for my assigned TB and HIV/AIDS patients. Other than monitoring drug intake, I also teach my clients important health promotive behaviors like the need to stay in well-ventilated houses for my TB patients as well as TB screening in my community.
What are you most proud of as a CHV?
Though most CHVs aren't compensated, I am happiest when my community is healthy because the improved health of the community translates to members being able to participate in economic and social development activities in the community.
What changes have you seen in your community since you became a CHV?
Malaria prevalence in Western Kenya is higher compared to other regions. But since becoming a CHV, working with other CHVs in my community to sensitize people on the importance of sleeping under a mosquito net has helped reduce malaria cases.
I have also witnessed a huge increase in expectant mothers going to deliver in hospitals as opposed to home births as it was in the past. They have embraced prenatal check-ups and this has improved the general health of the community.
What challenges do you face while delivering Community Health Services?
In my assigned Community Health Unit, transportation for members who need advanced medical assistance beyond what we are trained to do is a challenge. For instance, when an expectant mother goes into labor at night, they call you as the CHV who has been monitoring their pregnancy for assistance to get to health centers and you have to organize for a bodaboda to help get the mother to the hospital in time.
Also, some of the health centers lack drugs that we need to treat common ailments amongst community members.
How do you collect and report data?
Currently, we use the manual-based reporting system to collect data from households. This is not efficient as it is prone to error and not real-time.
What have you done to prevent the spread of Covid-19 in your community?
CHVs played a pivotal role in reducing the devastating impact of Covid-19 in communities when it first emerged.
We worked together to sensitize people on safety and preventive measures against the pandemic. Teaching communities about the importance of handwashing, social distancing, and wearing masks went a long way in reducing infections. In the early days of the pandemic, we faced challenges like convincing people to go to hospitals when they fell ill because they feared going to hospitals would increase their chances of contracting the infectious Covid-19.   We also dispelled myths around Covid-19 to reduce the stigma in the community.
Also, as a CHV, you have to act as a role model for your community members. For instance, when the vaccines and boosters came out, I had to get vaccinated first before telling my community members to get vaccinated. This leading by example portrays one as a role model and makes it easier to convince people of the importance of vaccination.
What are your needs as a CHV?
Despite the work we do in advocating for health promotive behaviors in our communities to prevent diseases, and help people access health care services, we are still considered volunteers and we are not recognized for the roles we play. As CHVs, it would be nice for us to be formally recognized as being part of the health care system.
We are also not compensated for the work we do and would appreciate receiving a stipend for our efforts. Lastly, non-financial incentives like NHIF insurance for us frontline workers and first aid kits would be of significance to us.
We recognize and applaud the work done by CHVs as key players within communities in addressing health issues. The Community Health strategy has been recognized as being a key effective way for making improvements in health care delivery and Community Health Volunteers are a key pillar of this approach. The CHS Bill when legislated by counties will among other things, recognize, equip and remunerate Community Health workers.